Blogo 2 first impression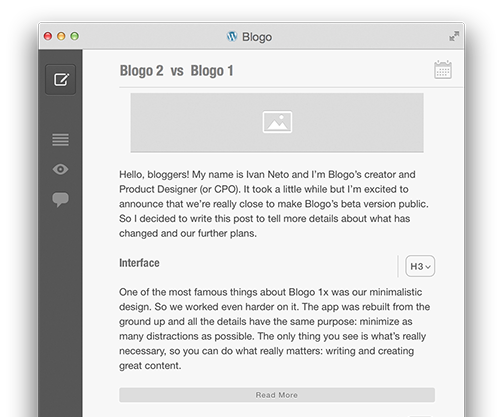 As a long-time user of MarsEdit I thought I'd give the recently-updated Blogo another go. I'm loyal to and comfortable with MarsEdit but initial impressions of Blogo 2 are positive. It feels modern and complete, if a little buggy. Image handling seems nice. Formatting controls are handier but not as complete as those in MarsEdit. Blogo does not yet support Markdown but I see that they plan to.
The live preview feature of Blogo uses an actual unpublished post so that the preview looks like it will when published. That's nice.
So far Blogo only supports WordPress blogs but will be adding Tumblr and Blogger support and probably Squarespace, etc.
It's good to see movement anywhere in the blogging arena these days. Blogo 2 offers a darn fine option to those of us who still find blogging useful.