The Amazon Echo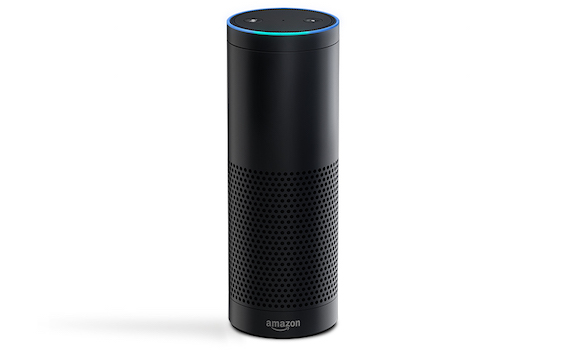 I've had my Amazon Echo for a couple of months now and it's pretty great. Alexa (her name, because the Echo responds to calling it (her?) "Alexa") sits in my kitchen and waits for me to ask her things. I ask her things constantly.
She tells me the weather, plays whatever music I want to hear, looks things up on Wikipedia, plays the news, reads me my Audible books, and sets cooking timers.
Note that none of the above involve directly purchasing stuff from Amazon. Well technically, the Audible books are from Amazon and some of the music is via Amazon Prime, but the Echo doesn't seem to care if I buy anything or not. It's almost weirdly un-Amazon in that way. In fact I wish she did let me buy stuff.
She does all those things without me having the think about how to make her do them. I just say, "Alexa, set a timer for 10 minutes" or "Alexa, play some Rage Against the Machine" or "Alexa, read me 'Ready Player One'" and she just does it, nearly instantaneously. She understands commands from across the room over music already playing . I don't even need to yell. It's all quite remarkable.
I have a Sonos system in my house and plenty of decent gear for listening to music, including a turntable and lots of records. I love all that stuff, but I find myself just saying "Alexa, play my Beastie Boys Pandora station" because it's effortless, and sounds good enough. Much better than having to grab my phone, open the Sonos app, find the music I want, choose the room, and hit play. So yeah, it's making me a bit lazy.
I thought using Siri on the Apple Watch would be a great way to do many of these things, but Siri doesn't work well on the Watch. At all. I'm not going to bother grabbing my phone, either. Not anymore.