The Life-Changing Magic of Tidying Up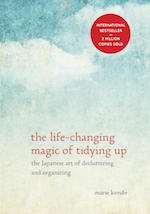 It took a few people recommending Marie Kondo's "The Life-Changing Magic of Tidying Up" before I decided to read it. I'm glad I did, but not only for the intended reasons. I also got a few chuckles out of some of the sillier recommendations.
Not all the book's recommendations are as silly as they first seem. For example, she suggests that before discarding something that I thank it for its service. I initially shrugged it off as feel-good nonsense but it turns out to actually feel good.
Since reading the book I've completely gutted my closets and they've never been, well, tidier. And I thanked every item of clothing before discarding it. Go figure.
It's worth a read.